Featured Article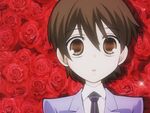 Haruhi Fujioka is the main character of the Ouran High School Host Club series. She is a highly intelligent 1st-year student from a middle-class family ("poor" in the eyes of Ouran students) who attends Ouran Academy on scholarship based upon an entrance exam. As she is required to remain first in her class to keep her scholarship, her studies are very important to her. Two characteristics that define Haruhi is her straightforward nature and the belief that one's gender doesn't define one's life choices. Having been raised under less aflluent circumstances than her classmates at Ouran, she displays more practical and responsible qualities, and is not easily swayed by the charms of the hosts. Even when she first meets them, she only reacts nervously instead of becoming instantly infatuated like most other girls. Haruhi is not easily recognized as female due to her having a deeper voice than other female students, short hair and androgynous clothing most of the time.

Community content is available under
CC-BY-SA
unless otherwise noted.