bored
Hi!!! Im really bored........ someone wanna chat? ;) lol
                           Arilyn.senpai (talk) 14:38, May 1, 2014 (UTC)Arilyn
Hi! im Brookie Chan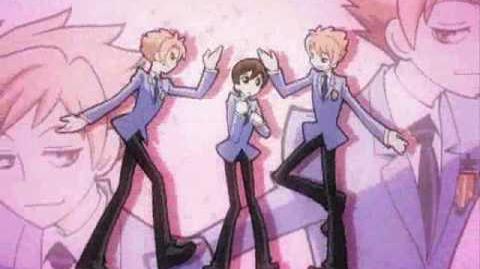 If you're looking for chat, try going to the Forums. Angelle aka Luxartisan (talk)
Desirae-Chan (talk) 02:17, October 4, 2014 (UTC)Desirae-Chan
Does anyone have any funny anime shows to reccomned? Or perhapse horror. I have seen Another, Tokyo Ghoul, and Deadman Wonderland :)
Regarding your question about funny shows, I highly reccomend Baka and Test.  It's really funny! It was the first anime I ever watched and it was absolutely addictive.  There are some episodes on Hulu and I beleive there are also some on Funimation's YouTube.  And some other shows I reccomend are The Devil's A Part-Timer (really funny, and it's on Netflix), Black Butler (sort of on the horror/mystery side), Sword Art Online, and Fairy Tale.
FirstSwiftie
FirstSwiftie (talk) 00:18, October 12, 2014 (UTC)
Who's everyone's fav. Host Club member?
So who's everyone's favorite Host Club member and why? Also, who would you want to marry (pretend that the ships don't exist) and why? 108.240.8.218 03:41, November 21, 2014 (UTC)

Most definitely Hikaru. Same with the marrying thing. He's amazing. Tamaki and Haruhi are just... no. No. Fabulousfrenzy (talk) 23:55, May 14, 2018 (UTC) Fabulousfrenzy (PS PLZ DON'T JUDGE THE USER I WAS RLLY BORED)
Hi!!
This is my first Wiki page and I really wanna fit in. So any pointers and tips I woud really love.I LUV OHSHC (talk) 02:04, February 9, 2015 (UTC)
What will happen if OHSHC and Kuroshitsuji collide?
Hi! I'm Melody Nightan.
Melody5012. 03:33, April 1, 2015
Hi! I'm new here and I would like to make some friends online.
Oh yeah about that, I don't really know what will happen if OHSHC and Black Butler
collides. All I know that Viscount Druitt is like an ancestor of Tamaki. I mean come
on they are like gonna Hello, For the beauty with such grace accept the angel from heaven.
I mean seriously? I know like the OHSHC have some ancestor at Black Butler except kind
not dangerous. So cya!
Season 2 release date 2016 or 2017.
People are saying that the second season comes out in 2016 or 2017 or that it already came out in Japan. Is this true or just a rumor?
Umm how do i work this? HeheKonaAqua (talk) 14:59, January 7, 2016 (UTC)Konata aqua
what if the twins weren't twins
and just a look-alike homosexual couple who is constantly cosplaying 
just to get attention
---
this makes so much sense

Omg yes. The meaning of life has been explained. Fabulousfrenzy (talk) 23:57, May 14, 2018 (UTC)Fabulousfrenzy
Community content is available under
CC-BY-SA
unless otherwise noted.