These are the editing guidelines for the
Ouran High School Host Club Wiki
.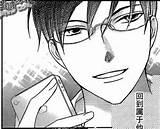 Welcome editor!  My name is luxartisan but just call me Angelle. If you're new, just do your best.  These guidelines are to keep the wiki organized and consistent in appearance. If something you add is altered, please don't take offense.  If you feel strongly about something, leave a message for me so we can discuss it.
Basic Rules
Posts that fail to abide will be amended or deleted

1. New ideas should be discussed with admin before implementing.
2. Fanart, manipulated images and non-Ouran related images of any kind are not allowed on official pages of the wiki.
3. External links to Wikipedia for explanatory purposes may be added for technical, geographical, highly specific, or unique terms. Links to vendor websites are prohibited. Internal links need only appear the first time they are mentioned in an article.
4. Images posted should be .jpg or .png. ALL images should have a "destination."
5. This wiki uses American spelling and grammar. Present tense is used in all articles. Grammar is subject to editing.
6. Character names are listed First Name/Last Name except in kanji, where they are presented in the traditional Japanese form of Family Name/Given Name. Simplified spelling is used across formats. For example: Kyouya Ohtori (or other variations) is written as Kyoya Ootori.
7. Spamming and trolling are forbidden. Do so and you will be banned. Profanity is a form of spamming.
Community content is available under
CC-BY-SA
unless otherwise noted.