The stand-alone feature film is a spin-off of the dorama, both of which are based on the manga series,
Ouran High School Host Club
by
Bisco Hatori
(published September, 2002 - November 2010).
Profile
Movie: Ouran High School Host Club
Romaji: Gekijouban Oran Koko Hosutobu
Japanese: 桜蘭高校ホスト部
Director: Satoshi Kan
Writer: Bisco Hatori (manga)
Producer: Yasuhito Tachibana, Hidenori Iyoda, Hideki Tashiro, Toshiaki Muramatsu
Cinematographer: Masahiko Oumi
Release Date: March, 2012
Runtime: 105 min.
Language: Japanese
Country: Japan
Plot
After a confusing "moment" between Haruhi Fujioka and Tamaki Suoh at the Ouran Host Club's anniversary party, the club is in turmoil. Haruhi doesn't understand why Tamaki suddenly makes her heart go doki-doki, Tamaki doesn't understand his impulse to kiss his "daughter," and bystander Hikaru Hitachiin doesn't understand why he's so angry at the two. Things are only complicated by the Ouran Battle for rights to the Central Salon, which the Host Club plans to win this year. Enter Michelle of Monale, a prestigious heiress from Singapore who will ultimately decide the winners of the Ouran Battle. Her petty demands are impossible to satisfy and her treasure hunt is impossible to win. To top it off, she just might just be a love rival for Haruhi.
Notes
Related title:Ouran High School Host Club | Gekijoban Oran Koko Hosutobu (2012)
Cast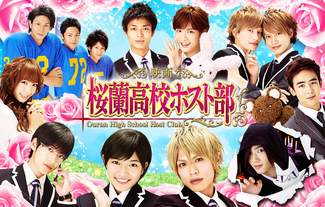 Community content is available under
CC-BY-SA
unless otherwise noted.