Bisco Hatori is a Japanese manga artist. She is best known for her manga series Ouran High School Host Club, which was turned into a 26-episode anime series, a television dorama and feature film, as well as several video games for differing game platforms. The manga runs 83 chapters plus several special follow-up omake.
Biography
Her pseudonym is Bisco Hatori and she is known around the world as the creator of Ouran High School Host Club. Her work has been featured in the magazine LaLa, among other forms of media. Her reclusiveness is such that when the manga first published, no official photo of her was available, but basic line drawings indicating a female existed throughout the manga. It was speculated that Bisco Hatori is not a single person, but a duo or group of artists (aka CLAMP) who came together to create the world of Ouran and that the name "Bisco" is an acronym for the names of said artist-group. However, in a recent rare appearance in the U.S., Bisco Hatori appeared as a solo female individual. The truth, however, remains speculative.

Her manga debut was A Moment of Romance in LaLa DX.  Her first series was Millennium Snow which was put on hiatus when her manga comedy, Ouran High School Host Club, became a breakout hit, garnering a place in the 50 top-selling manga in Japan for both 2008 and 2009. Hatori's work is influenced by classic manga such as Please Save My Earth, a shōjo science fiction series; and the basketball manga Slam Dunk. The anime version of Ouran High School Host Club is one season in length (26 episodes), aired during 2006-2007, but the manga continued until its conclusion in 2010. To this day, fans debate whether the anime comprises one or two seasons, but continue to petition Bisco Hatori to green-light an animated "second season."

In January 2012, Hatori wrote a science-fiction comedy one-shot manga titled Mōsōryoku Opera, which was published in LaLa. The second chapter was published in May 2012. She has recently re-vitalized Millennium Snow and published a new chapter for her previously "on hiatus" series in January 2013. In 2015, she began a series of one-shots titled Petite Peche! in Ane Lala. Her most recent work is Urakata!, known in English as Behind-the-Scenes!! with its seventh and final volume released in February 2018.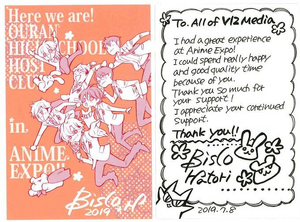 Mangaka Hatori appeared at Anime Expo 2019 held at the Los Angeles Convention Center in Los Angeles, California, USA. During several interviews and panels, she indicated that she would welcome another project concerning the characters and topics covered in Ouran, but is in no position to produce an anime and advised fans to continue petitioning the studio. When asked about the BL suggested in the series, she stated that Ouran has always been meant to be a parody of shoujo manga, but doesn't feel there is a thematic gap between shoujo and Boy Love themes.[1]

As for Haruhi being a female, it was revealed that the character was originally meant to be a boy, but one of her editors suggested a gender swap. Thus, Hatori invented a female character that "doesn't need to dress up like a boy other than the fact that those are the clothing she wears and likes" without subtext. She expressed that she isn't hung up on genre parameters or gender orientation because every person should be proud of being unique while remaining true to themselves. In summation, Hatori stressed Ouran being a story about family and friendship, without any intention of being a pioneer of "fujoshi comedy," though admits that it happened just the same.[2]
Quotes
"If possible, it would be great to see [Ouran] through to the end as it is in the manga, but at the same time, I really love and respect the crew and the director that worked on the anime. Say maybe there was [a new anime], make it not so serious this time? But I really treasure what has been created, so [this is] really strictly and if possible."[3]
Works
Isshunkan no Romance

(

一瞬間のロマンス

A Romance of One Moment

)

Millennium Snow

(2001–2013, 3 volumes)

Ouran High School Host Club

(2002–2010, 18 volumes)

Detarame Mōsōryoku Opera

(2012, 1 volume)

Petite Peche! (2014, 1 volume)
Behind the Scenes!! (2018, 7 volumes)
Awards
Hatori won the Outstanding Debut in the 26th Hakusensha Newcomers' Awards for her work, Millennium Snow, along with Kiyo Fujiwara who also won the same award for his work, Boku wa Ne.
Trivia
Sh

e states that her pseudonym has a special meaning to her.

According to author notes in the manga, when she's stuck thinking up names for her characters, she's inspired by loud and upbeat music.
References
↑

Ortiz, Alfonso "Fonzy". "Bisco Hatori at Anime Expo 2019". Honey's Anime. qdopp, Inc. Retrieved July 17, 2019.

↑

Ortiz, Alfonso "Fonzy". "Bisco Hatori at Anime Expo 2019". Honey's Anime. qdopp, Inc. Retrieved July 17, 2019.

↑

Ortiz, Alfonso "Fonzy". "Bisco Hatori at Anime Expo 2019". Honey's Anime. qdopp, Inc. Retrieved July 17, 2019.
Community content is available under
CC-BY-SA
unless otherwise noted.