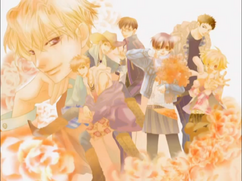 The Ouran High School Host Club anime series has two distinct theme songs.  The Opening theme, Cherry Blossom Kiss, invites the viewer into the world of the Host Club in typical anime fashion, the central figure of Haruhi Fujioka seen interacting briefly with each Host singly and then, the group altogether.  Haruhi is dressed as a male, thus letting the viewer in on the joke of the series. The Closing theme, Sprint, expresses a personal message that embodies the Hosts' shared inner desire for a better world, with their participation in Host Club a contribution towards that goal.
Community content is available under
CC-BY-SA
unless otherwise noted.